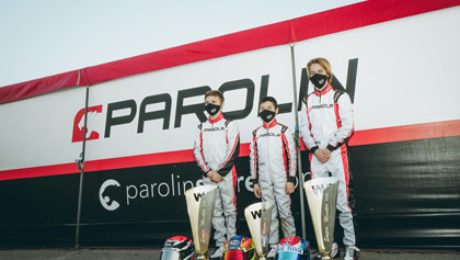 • Sparco and Parolin Racing Kart, two historic international motorsport companies, establish a three-year partnership.
• Sparco will offer its tailor-made services by providing technical race clothing and teamwear for karters, staff and clients.
• The safety, comfort and innovative design of Sparco products combine with the distinctive style and identity of Parolin.
The start of the 2022 international kart season coincides with the start of the technical collaboration between Sparco® and Parolin Racing Kart, two leading companies in the kart sector.
Thanks to the considerable experience gained in 45 years of activity, Sparco® will produce all the technical clothing and teamwear for the team and its customers, through a dedicated line under the Parolin brand, which will benefit from an important visibility on kart tracks all over the world and from a worldwide distribution.
Safety, comfort and design have always distinguished Sparco® products. To this distinctive element is added a distinctive style designed ad hoc, in line with Parolin's identity.

Marco Parolin, Parolin Racing Kart Marketing Manager: "We are thrilled to have signed this partnership with Sparco, one of the most prestigious brands on motorsport's international scene. The product line specifically developed for Parolin is able to fully satisfy the needs of our team and of our sales network. We both aim at the utmost quality and at the attention to details, which are fundamental elements to make a difference in our field".

Niccolò Bellazzini – Brand Manager Sparco®: "The signing of this important agreement is a further step towards strengthening Sparco®'s market leadership in a strategic business such as karting. We're observing consistent growth in the sector and in the number of participants in the various international championships, and this is a sign of the extreme vitality of motorsport. The combination of our brand with that of a team of primary stature such as Parolin Racing Kart is a clear sign of our growing level of investment in this segment."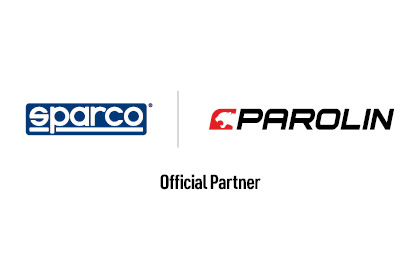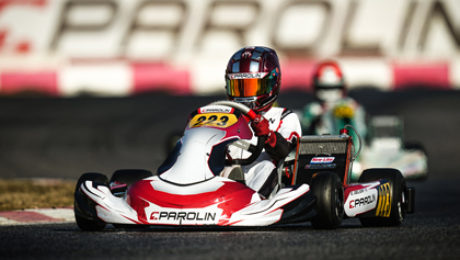 In a very tough WSK Super Master Series Round 2, Parolin Motorsport showed a remarkable level of competitiveness in all categories. Of course, results were more difficult to achieve with a record field of over 350 participants. Despite several setbacks, Parolin Motorsport reached 6th place in OK with rookie Enzo Deligny, René Lammers held on to 3rd place in the Junior ranking while Anatoly Khavalkin finished 6th in the Final. Dries van Langendonck was on the Mini podium followed by Christian Costoya, both in the top three of the Super Master Series.
"WSK Promotion can be proud to have broken its absolute participation record this weekend", said Marco Parolin. "This is a well-deserved reward for the quality of the organisation and a very positive indication for high-level karting. The competition was more demanding due to the high number of competitors competing simultaneously on the track, especially during the 46 Qualifying Heats and the eight Prefinals. Fortunately, our Parolin/TM Racing equipment performed very well throughout the meeting.
Despite their best efforts, our drivers were not always able to avoid incidents and penalties. It was a difficult exercise and we had to be very successful in order to reach the top positions. I am universally satisfied with the progress of our drivers. We can already see some young talents blossoming and the rest of the season will bring us some pleasant surprises. With 48 Parolin chassis in the starting line-up, our brand is in an enviable position at this level with a third of the field and four Parolin karts in the Final top five."
In terms of results, the KZ2 results did not match the true performance level of Parolin Motorsport. Lorenzo Travisanutto was very fast and set three best laps in the race after his superb 3rd place out of 93 participants. This was not enough to allow him to shine in the Final because of a retirement and four penalties.
In OK, the two rookies did a good job. Enzo Deligny was 6th and Maksim Orlov 11th out of 60, both had solid heats before following each other to 3rd and 4th in the Prefinal. Enzo continued his progress in the Final by finishing 6th while Maksim had to retire while making progress towards the top 10.
Anatoly Khavalkin managed to regain 16 places during the OK-Junior Qualifying Heats to climb to 2nd place out of 90 participants. He finished the Final in 6th position, which moved him up six places in the provisional series ranking. René Lammers had regained 24 positions in the heats by finishing 4th, but the Final stages were not favourable to him and he ended with a retirement. He remains in the top three of the ranking. Zac Drummond had a very solid run from his distant 61st time. After avoiding all the pitfalls in the heats, he moved up 38 places and continued his climb by moving up another 12 positions to 13th in the Final.
The Mini category had 108 participants, a record. Christian Costoya and Dries van Langendonck confirmed their talents in the face of strong opposition. With a total of six heat wins between them, they achieved their objectives. Christian won his Prefinal before taking a rewarding 4th Final position after an intense battle. Dries played a great card in a hectic last lap to reach the third step of the podium. They follow each other in 2nd and 3rd place in the series standings at the halfway point.
Jack Illife stepped up his game in a consistent performance that took him to 7th place in the Final. William Calleja posted three fastest laps in the heats, but dropped out in his Prefinal. A fine 10-place recovery allowed him to reach 13th position in the Final. Bruno Gryc developed positively during the entire event to finish 20th, despite a penalty for a badly fixed front fairing, having set the fastest lap of the Final. 65th in Qualifying, Angelo Bruno Blanco managed to qualify for the Final, but had to retire after a few laps.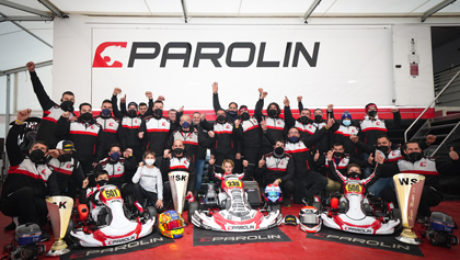 One week after Christian Costoya's success in the Mini class in the WSK Champions Cup, Parolin Motorsport was back on the Lonato track for the first round of the WSK Super Master Series. This time the field was bigger and the official Parolin team fielded a 15-strong line-up in all four classes. Dries Van Langendonck won Mini with flying colours, Costoya was on the podium and René Lammers started his first full season in OK-Junior with a fantastic victory.
"To have two wins at this level of competition at the very beginning of the year is a very good sign for the 2022 season", commented Marco Parolin. "The preparatory work by the team is an essential element to be competitive at this time, but I must also say that our young drivers have done very well despite the cold temperatures. Their determination is impressive and I congratulate them all for that.
Our excellent level of performance was confirmed in Mini. This time it was our new recruit Dries van Langendonck who won after a very good race. Christian Costoya, who took pole position, was also in a position to win, but the last laps of the Final did not go as he had planned and he finished in 3rd place. Willliam Calleja did some very good heats and progressed into the top 10, while Jack Illife completed his comeback by gaining 11 places in the Final to finish 11th. Bruno Gryc and Alessandro Truchot were rewarded for their efforts by reaching the Final.
We were very competitive in OK-Junior. We didn't expect René Lammers to be so strong already. He completed a perfect performance and held his position at the end of the Final. This is an important encouragement for the whole team, confirmed by Anatoly Khavalkin's incredible comeback from 67th position in the qualifiers. He managed to reach 13th place in the Final, an overall improvement of 54 places. Many positive things also happened in OK with our two rookie drivers. Enzo Deligny was able to finish 7th and Maksim Orlov 19th out of 49 participants. The main regret of the meeting was the incident in which Francesco Celenta was injured during his first run. We wish him a speedy recovery."
WSK Super Master Series Rd 1, 27th to 30th January 2022, South Garda Karting, Lonato, Parolin Motorsport team.
Mini
Dries van Langendonck, 🇧🇪
6th fastest time, 4th in the heats, 2nd in his Prefinal, winner of the Final (+3 places) with the fastest lap, leader of the WSK Super Master Series provisional ranking.
Christian Costoya, 🇪🇸
Poleman in Timed Qualifying, three heat wins, winner of his Prefinal, 3rd in the Final and provisional standings.
William Caleja, 🇦🇺
23rd fastest time, two top three finishes with two fastest laps in the heats, 10th in the Final, 8th in the provisional ranking.
Jack Illife, 🇺🇸
34th time, top four with fastest lap in a heat, 22nd after heats and 11th in Final, an overall improvement of 23 positions.
OK-Junior
René Lammers, 🇳🇱
2nd fastest time, three heat wins and two fastest laps, leader of the heats, winner of his Prefinal, winner of the Final, leader of the WSK Super Master Series provisional ranking.
Anatoly Khavalkin, 🇷🇺
67th fastest time, 18th in the heats, 3rd in his Prefinal, 13th in the Final. Overall progress of 54 places.
OK
Enzo Deligny, 🇫🇷
8th fastest time, 7th in his Prefinal, 7th in the Final, 11th in the provisional WSK Super Master Series standings.
Maksim Orlov, 🇷🇺
27th fastest time, 5th in his Prefinal, 19th in the Final.
Parolin Motorsport will continue with the second round of the WSK Super Master Series from 10th to 13th February in Lonato.