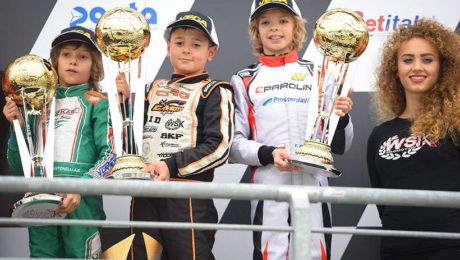 During the last two major events of the 2017 season, the Parolin Racing Kart chassis sparkled on the Adria circuit with two podium finishes. The WSK Final Cup saw a massive participation from Parolin in 60 Mini, while Gabriele Mini made his debut in OK-Junior.
Parolin Racing Kart has decided to increase its presence in the categories for young drivers in the future. This new objective has already materialised during the two successive weekends of the WSK Final Cup on 4th-5th and 11th-12th November 2017 at the Adria Karting Raceway.
The official Parolin Racing Kart driver in 60 Mini, the Italian Gabriel Mini, has already been successful many times, and immediately found his place in the international OK-Junior category in his third race at this level. The competitiveness of his Parolin chassis allowed him to take a pole position, to win three Qualifying Heats and to take the 2nd place in the Final, with the fastest lap in the race, during a sensational debut against a field representative of the best drivers in the world for the coming season.
No less than 12 Parolin chassis started in 60 Mini. During the first competition, the Norwegian Martinius Stenshorne won Prefinal A and the Pole Tymoteusz Antoni Kucharczyk Prefinal B. During the second weekend, Brandon Badoer, the son of the former F1 driver Luca Badoer, won Prefinal A, while Kucharczyk won again at the end of Prefinal B, before finishing 3rd in the Final as well as in the championship. Alessandro Cenedese was back in the top five in the race and the series. Parolin Racing Kart was the only team to place four drivers in the top 10 of the WSK Final Cup overall standings.
With these first-rate results, Parolin Racing Kart was confident in its choice to step up its presence in 60 Mini for next season, as well as in OK-Junior with a full development programme of the new 2018 chassis and increased ambitions.