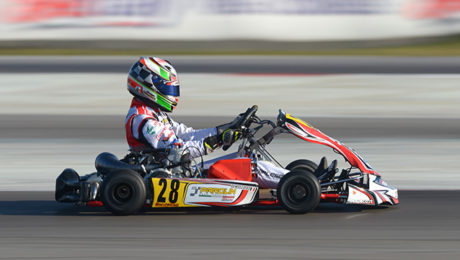 At the first competition of the year, the Parolin Racing Kart team recorded good performances in KZ2 with Lorenzo Camplese, in line with its title of CIK-FIA Asia-Pacific Champion won last December in Macau. The 2016 season has started strongly for the Venetian brand as his driver took pole position in Qualifying and took a superb 5th place finish among the leaders in the category.
"After the good results achieved by our chassis last year, we decided to launch our factory team in major events in 2016," says Albino Parolin. "I think it's time to show the real potential of our equipment and support our worldwide dealer network. At the opening race at Adria, Lorenzo Camplese was immediately among the best. This is a very encouraging start!"
The WSK Champions Cup was run on the first weekend of February at the Adria Raceway Karting where the biggest European 125cc gearbox gathered. For the young Parolin Racing Kart factory team, the competition was very successful, in the dry and in the wet, and despite some setbacks, the overall result was more than satisfactory.
In Timed Qualifying, Lorenzo Camplese was able to place his Parolin / TM / Vega at the top of the rankings in the strong KZ2 class with 33 experienced drivers. The poleman spent a sunny day achieving 2nd and 3rd positions in the Qualifying Heats before being slowed by a small technical concern. He started on the 3rd row of the grid for the Finals.
"The start of the rain on Sunday morning didn't enthuse me!"confided Camplese. "I'm not a big fan of these kind of conditions and I had no experience with Vega rain tyres. Fortunately, I was able to start to find my feet after a difficult warm-up."
Indeed, Lorenzo posted the 6th time in the Prefinal and managed to finish 8th, a good result in light of his 19th fastest lap in the warm-up. Consistent and safe, the Parolin driver improved again in the Final, regaining ground up to 5th position on a slippery track, always behind a quartet of major champions.
The Parolin KZ chassis demonstrated strong qualities at the highly demanding circuit of Adria against leading competition, as the team has just been put in place and the development work is just beginning. This first result in the top five is very encouraging before the start of the WSK Super Master Series in less than a month at Castelletto. Parolin Racing Kart team will be attending 2016 major events as WSK Super Master Series, CIK-FIA KZ European & World Championships and some overseas appointments as well.