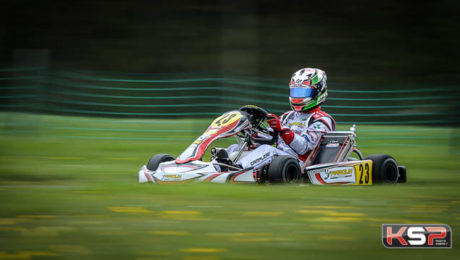 Eagerly awaited by the Parolin Racing Kart Team to get back into the title race, the second round of the European KZ Championship Lorenzo Camplese was hit by two incidents with heavy consequences on the track. But we knew the Parolin chassis was very effective at the Spanish circuit of Zuera as had been proven by Francesco Celenta last year by winning the KZ2 Prefinal and crossing the finish line ahead in the Final.
The presence of a strong wind from Saturday morning onwards did not make the work of the technicians of the Parolin Racing Kart Team easy. While he had the fastest time in the last free practice session on Friday Lorenzo Camplese finished Qualifying in 7th place less than two tenths from pole position. After a great start in the second heat, he surprised his opponents and found himself sandwiched between Marco Ardigo and Jérémy Iglesias. He could do nothing to avoid crashing and gave up after a few metres.
Ready to turn the corner in the Prefinal, Camplese made an excellent start but experienced a new nightmare on the first lap because of an incident in front of him. Far behind the pack, he was unable to regain ground despite very good speed (4th fastest lap). Though marked by these two incidents, Lorenzo trusted his Parolin / TM and the work of his team to catch up in the Final. He had already gained five places on lap 1, this time completed without incident. He battled firmly subsequently against his slower rivals before continuing his advance to the finish. He was in 9th place, with nine places gained when he crossed the finish line.
"It was a really difficult weekend!" commented Lorenzo Camplese. "The team has done a good job, I did not make a mistake and yet we have had to deal with two blows of fate. It's a shame as the Final went reasonably well and I was able to show that the equipment was on form. Other famous drivers faced recurrent of technical problems and it would have been interesting to be in a better position because everything was going well for us in this regard. Unfortunately, it is no longer really possible to do well in the Championship. However, we will do everything we can to get a good result at the last European round in Genk, I think Parolin deserves it!"