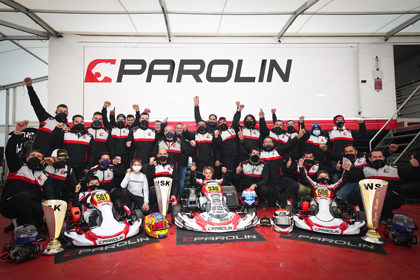 One week after Christian Costoya's success in the Mini class in the WSK Champions Cup, Parolin Motorsport was back on the Lonato track for the first round of the WSK Super Master Series. This time the field was bigger and the official Parolin team fielded a 15-strong line-up in all four classes. Dries Van Langendonck won Mini with flying colours, Costoya was on the podium and René Lammers started his first full season in OK-Junior with a fantastic victory.
"To have two wins at this level of competition at the very beginning of the year is a very good sign for the 2022 season", commented Marco Parolin. "The preparatory work by the team is an essential element to be competitive at this time, but I must also say that our young drivers have done very well despite the cold temperatures. Their determination is impressive and I congratulate them all for that.
Our excellent level of performance was confirmed in Mini. This time it was our new recruit Dries van Langendonck who won after a very good race. Christian Costoya, who took pole position, was also in a position to win, but the last laps of the Final did not go as he had planned and he finished in 3rd place. Willliam Calleja did some very good heats and progressed into the top 10, while Jack Illife completed his comeback by gaining 11 places in the Final to finish 11th. Bruno Gryc and Alessandro Truchot were rewarded for their efforts by reaching the Final.
We were very competitive in OK-Junior. We didn't expect René Lammers to be so strong already. He completed a perfect performance and held his position at the end of the Final. This is an important encouragement for the whole team, confirmed by Anatoly Khavalkin's incredible comeback from 67th position in the qualifiers. He managed to reach 13th place in the Final, an overall improvement of 54 places. Many positive things also happened in OK with our two rookie drivers. Enzo Deligny was able to finish 7th and Maksim Orlov 19th out of 49 participants. The main regret of the meeting was the incident in which Francesco Celenta was injured during his first run. We wish him a speedy recovery."
WSK Super Master Series Rd 1, 27th to 30th January 2022, South Garda Karting, Lonato, Parolin Motorsport team.
Mini
Dries van Langendonck, 🇧🇪
6th fastest time, 4th in the heats, 2nd in his Prefinal, winner of the Final (+3 places) with the fastest lap, leader of the WSK Super Master Series provisional ranking.
Christian Costoya, 🇪🇸
Poleman in Timed Qualifying, three heat wins, winner of his Prefinal, 3rd in the Final and provisional standings.
William Caleja, 🇦🇺
23rd fastest time, two top three finishes with two fastest laps in the heats, 10th in the Final, 8th in the provisional ranking.
Jack Illife, 🇺🇸
34th time, top four with fastest lap in a heat, 22nd after heats and 11th in Final, an overall improvement of 23 positions.
OK-Junior
René Lammers, 🇳🇱
2nd fastest time, three heat wins and two fastest laps, leader of the heats, winner of his Prefinal, winner of the Final, leader of the WSK Super Master Series provisional ranking.
Anatoly Khavalkin, 🇷🇺
67th fastest time, 18th in the heats, 3rd in his Prefinal, 13th in the Final. Overall progress of 54 places.
OK
Enzo Deligny, 🇫🇷
8th fastest time, 7th in his Prefinal, 7th in the Final, 11th in the provisional WSK Super Master Series standings.
Maksim Orlov, 🇷🇺
27th fastest time, 5th in his Prefinal, 19th in the Final.
Parolin Motorsport will continue with the second round of the WSK Super Master Series from 10th to 13th February in Lonato.