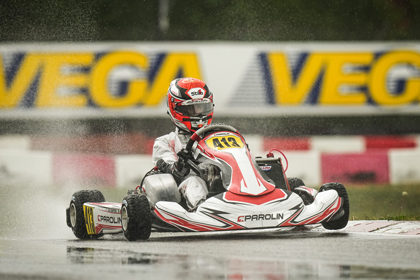 This year, the Winter Cup had to give up its usual spot at the beginning of the season to wait until mid-November on the South Garda Karting circuit in Lonato. The race started on a dry track and ended on Sunday in a downpour. The two Parolin Motorsport drivers entered in KZ2 put in solid performances with Celenta 8th in the Final and Travisanutto 11th. The Parolin chassis were present in large numbers in the other categories, with some very convincing results such as 2nd place for van Langendonck (AV Racing) in the youngest category.
"The end of the season is near and we are already concentrating on the preparation for next year", explained Marco Parolin. "2022 will start a new homologation cycle for chassis, brakes and bodywork. There is plenty of work to do. Our two drivers Francesco Celenta and Lorenzo Travisanutto have continued the development programme of our equipment with very satisfactory results. They proved to be competitive both in the dry and in the rain, which showered the Final stages. It's a pity that Celenta couldn't reach the finish of his first race when he was in 3rd place because he was in a very good rhythm. After that, he progressed steadily in the rankings to reach 8th place in a tough Final. Travisanutto took advantage of another opportunity to increase his experience in the 125cc gearbox, especially on a wet track. He completed his mission by coming close to the Final top 10 after some solid heats. Parolin Racing Kart was second most popular among the chassis manufacturers in the Winter Cup, which was very satisfying for our brand. In the front rank of the Mini Rok chassis, the teams and drivers who trust us achieved good results with three places in the Final top 10 including 2nd position for Dries van Langendonck (AV Racing). Coskun Irfan (Shamick Europe) also finished in the Junior top 10. 2022 should give us even more reasons to be happy."
Parolin Motorsport – 2021 Winter Cup – Lonato – KZ2
Francesco Celenta
8th in Qualifying, 16th in the Qualifying Heats, 7th in Super Heat 2 (+1pl.), 8th in the Final (+5pl.).
Lorenzo Travisanutto
13th in Qualifying, 11th in the Qualifying Heats, 4th in Super Heat 1 (+4pl.), 11th in the Final.