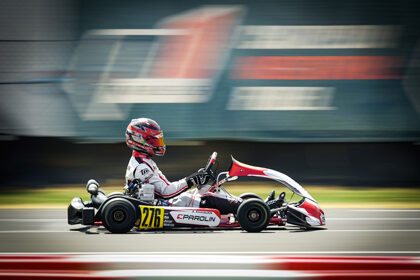 Parolin Motorsport demonstrated its exemplary competitiveness in Italy, with several of its drivers capable of competing with the best in both categories. In the end, Anatoly Khavalkin finished 7th and Miguel Costa came 11th in OK, while Christian Costoya secured a top 10 finish in OK-Junior.
The high temperatures on the Cremona circuit on Sunday did not affect the effectiveness of the Pa-rolin / TM karts that had been on show since the start of the fourth round of the Champions of the Future Euro Series. Rene Lammers played a leading role in the OK category thanks to his 3rd place in Qualifying. He took three wins in the heats and set the fastest time in the Super Heat. A collision at the start of the Final prevented him from finishing the meeting as he deserved. Anatoly Khavalkin had made up 11 places in the heats and continued his progress through to the Final, fin-ishing 7th (up six places). Miguel Costa achieved his best result in the Final, moving up 10 places to 11th.
In OK-Junior, Christian Costoya showed strong determination with a win and two second places in the heats, followed by another win in the Super Heat. During the ups and downs of the Final, he managed to climb back into the top 10. Vivek Kanthan gained an incredible 32 places in the heats and made up another 13 places in the Final, finishing 16th. A spoiler penalty in the Final limited the scope of Jack Illife's performance, while Zack Drummond was forced to retire after having climbed back up to 12th place.
"It's always a bit frustrating when fate is against you in the Final," said Marco Parolin. "It's obvious that our drivers deserved to finish the competition in better positions. But that doesn't take away from the quality of their performances or the efficiency of the team. Once again, everyone has done an excellent job of strengthening our potential, and that's the most important thing. The dynamic within the team is as positive as ever. The meeting at Cremona has enabled us to make progress with a view to the next conclusion of the European Championship next week at this same track, where we'll have some great cards in our hand."