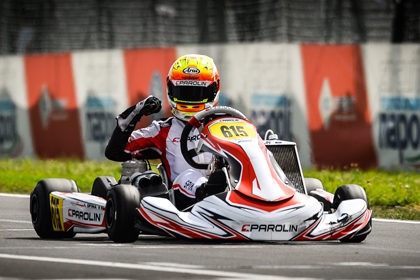 The fifth round of the Italian ACI Karting Championship has crowned Parolin Motorsport driver Alfio Spina as OK Champion 2021. Around 300 participants from 36 different countries took part in the competition from 18th to 20th June at the Circuito Internazionale Napoli in Sarno.
"We are happy with the OK double from Spina and Rinicella," said Marco Parolin. "Although the field was not as big as in a European Championship, there were several very high level competitors and it was important to stay ahead of them. I am happy for Alfio, who has been looking for a win for some time now, and also for Valerio, who was back after a long break. Overall it was a positive weekend for the whole team, who also dominated in Mini with wins for Costoya and Orjuela. The rest of the team performed well and in OK-Junior we were not far from the podium with Deligny. Beyond that, it was also very satisfying to be able to manage a double weekend logistically and technically: Sarno for the Italian KZ and Wackersdorf for the European KZ."
Spina, Italian OK Champion
Alfio Spina won the Italian title unstoppably in a single event by winning the two Final races by more than a second each time. Valerio Rinicella was one of his main rivals after taking pole position, as he finished 3rd in Race 1 and then 2nd in Race 2 to become vice-champion. These performances were achieved against a high level of international field.
Deligny very competitive in OK-Junior
The Frenchman Enzo Deligny started very well with the Junior pole. He maintained his domination in the heats before fighting for the victory in Race 1. Race 2 was more complicated and he had to give up some ground on the way to the finish, while his teammate Shimo Zhang finished in 7th place.
Costoya and Orjuela victorious in Mini
In the presence of almost 80 Mini drivers, Christian Costoya started from pole position and went on to win four Qualifying Heats and take two fastest laps. He also won Race 1 and finished 2nd in Race 2 with a new fastest lap. Matias Orjuela was already fast in the Qualifying Heats, but it was in the Final stages that he really shone. He started by gaining seven places with the fastest time in Race 1 and went on to win Race 2. Oliver Kinmark also put in a solid performance with a double top five in the Finals. Between them the three Parolin Motorsport drivers had a total of nine fastest race laps over the weekend. The young American Jack Illife was also in the top 10 ahead of his brother Oscar.