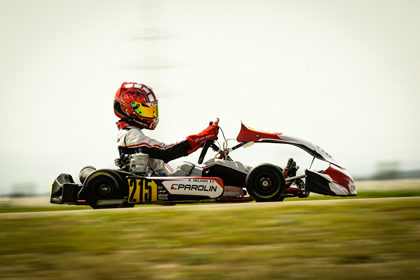 P
arolin Motorsport has just completed a difficult but successful meeting at the Spanish circuit of Zuera for the second round of the Champions of the Future Euro Series. In OK, Enzo Deligny made an incredible 34-place recovery with several fastest laps to reach the second step of the podium on his 14th birthday. The success of the Italian team was completed by the superb 3rd position of Anatholy Kkavalkin in OK-Junior.
"The competitiveness of our equipment in all the categories in which we compete is the reason for our sporting and technical commitment," said Marco Parolin. "The first round of the European Championship held last week in Portimão proved that the team is on the right track. The results we have just achieved in Zuera at the Champions of the Future Euro Series are very satisfying in view of the next FIA Karting event. The TM Racing-powered Parolin chassis are proving race after race that they have earned their place as one of the best karts in competition today. Consistency at the top is a key factor and is one of our priorities while this exceptional level of performance allows all our drivers to progress more quickly. Anatholy Khavalkin and René Lammers were able to defend their chances at the top of the rankings, while Zac Drummond continues to make encouraging progress and Ghazi Motlekar has again qualified for the Final. In OK, Enzo Deligny managed the meeting perfectly despite the handicap of his 36th position in Qualifying. Everything is in place for him to win an important race soon. Maksim Orlov had a solid run despite some difficult battles. Our new recruit, Rohaan Madesh from India, really succeeded in his first steps in a very demanding international category."
"We will be able to prepare for the second round of the European Championship in Zuera in a fortnight time on a solid basis thanks to the data recorded this weekend".
OK-Junior
Anatholy Khavalkin
11th in Qualifying, five top three in the heats including a win and a fastest time. 4th in the intermediate ranking and 3rd in the Final with the 4th fastest time. Moved up five places to 6th position in the provisional series ranking.
René Lammers
10 in Qualifying, 2nd place with the fastest time in a heat, 4th in the Super Heat and 13th in the Final. 9th in the provisional series ranking.
Zac Drummond
41st in Qualifying, 30th after the heats, 23rd in the Final, 18 places gained over the meeting.
OK
Enzo Deligny
36th in Qualifying, retirement in the first heat, then two 5th places, a 3rd place with the fastest time and 20 positions gained after the heats. Victory and best time in Super Heat (+7 pl), 2nd Final position, 12 places gained and fastest time. 8th in the provisional series ranking.
Maksim Orlov
16th in Qualifying, fastest time in heat, but lost 10 places in the battles, 27th in Final.