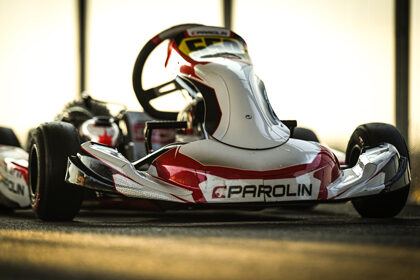 Last weekend, the first race of the year gathered five Mini drivers from the Parolin Motorsport team on the Lonato circuit during the WSK Champions Cup. It was an opportunity for the youngsters to get back to racing after a short break. The temperatures were still cool at the end of January, but the weather was still good. The first results were positive, with Australian William Calleja finishing in the top five and young French-American Alessandro Truchot finishing in the top ten in the Under 10s.
"The Champions Cup was the start of our season with the Mini department of our team," said Marco Parolin. "Among the novelties, we are happy with the new Mini U10, a category that allows less experienced drivers to compete at a high level. It was also the first meeting with the new ho-mologated engines, so it was an important occasion to continue the development of the new power units in collaboration with our partner TM Kart and MA Engines. Overall, we gathered a lot of useful information and are looking forward to the upcoming events."
The Parolin Motorsport team worked well to achieve a very satisfactory overall performance. A big congratulations to William Calleja for his perseverance which allowed him to regain 10 places in the Final and reach a rewarding 5th position. Manuel Miguez Gayoso moved up 11 places during the meeting while Alessandro Truchot was solid in the top 10 of Mini U10.
The WSK Super Master Series will start next weekend in Lonato with the reinforced presence of Parolin Motorsport in KZ2, OK and OK-Junior in addition to Mini.