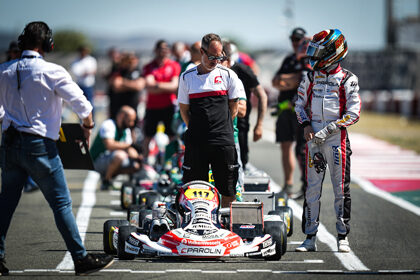 Parolin Motorsport's energy since the beginning of the season was rewarded with a great podium finish for Rene Lammers in the opening race of the FIA Karting European Championship – OK in Valencia and his 2nd position in the provisional standings. Anatoly Khavalkin's return to 9th place is also good news. In the Junior class, Zac Drummond put in a remarkable performance, regularly finishing in the top five in the heats, 8th in the Final and 6th in the championship.
"The work done by the team in the short time since the Champions of the Future Euro Series has paid off," explained Marco Parolin. "Our equipment was much more competitive in Valencia during the European Championship. Four of our Junior drivers were able to shine. In addition to the success of Zac Drummond, who was 5th before the Junior Final, Christian Costoya made his presence felt in the top four of the heats and the Super Heat, but he lacked success in the Final. Vivek Kanthan put in the best performance of his career with a heat win and 18th Final position. Jack Iliffe was on his way to a great achievement when an accident broke his momentum after he too had won a heat. We wish him a speedy recovery.
"Rene Lammers has shown that he has the maturity to do great things in OK. We are proud to support him and to provide him with a kart that matches his ambitions. Two victories and two 2nd places in the heats, a victory in the Super Heat and the 3rd position in the final heat is something we can all be happy about. His 2nd position in the championship suggests a great season ahead. Anatoly Khavalkin made up a number of places in the heats before finishing with a four-position improvement in the Final and a promising 9th place. Maksim Orlov and Miguel Costa have a lot of potential to build on."
Parolin Motorsport will now focus on the KZ category in which Francesco Celenta and Lorenzo Travisanutto will start their European Championship in Zuera in a fortnight's time. The preparation for the second round of the Champions of the Future Euro Series and then of the FIA Karting European Championship – OK & Junior will monopolise attention for the month of May.