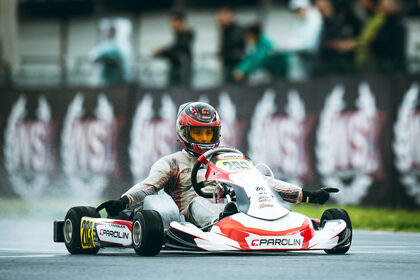 The second and final round of the WSK Euro Series 2023 was a real challenge for both the drivers and the technicians of the Parolin Motorsport team, as it was run in difficult weather at the Circuito Internazionale Napoli. Their efforts were rewarded by Anatoly Khavalkin's superb victory in the OK Final, which took him up to 2nd place in the Championship. Zac Drummond finished 9th, in the top 10 in his first competition in OK and Bruno Priam scored a top five in Mini Gr.3 to end the Championship in 6th position, as did Christian Costoya in OK-Junior.
"We're delighted to be back on the top step of the OK category," said Marco Parolin. "Especially in a difficult weather situation full of changes throughout the weekend. We proved that we were competitive from the Mini to the Senior category, which is important for us. Bruno Priam surprised everyone in the Mini class, with an exceptional comeback in the dry Prefinal, and another fine race in the wet in the Final, finishing in the top five. In the OK-Junior class, Jack Iliffe claimed his first pole position, but struggled thereafter. It was a disappointment for Christian Costoya, who was involved in contact when he was 2nd in the Final. Elsewhere, we are delighted that our satellite teams Modena and MLG were on the podium with their drivers: Bati Ege Yildirim became OK-N champion and Bruno Gryc finished third in OK-N Junior."

OK
Anatoly Khavalkin:
5th in Qualifying, 4th in the heats, 3rd in the Prefinal with the fastest lap and winner of the Final. 2nd in the Championship.
Zac Drummond:
First race in OK. 3rd in Qualifying, 5th in the heats, 9th in the Final, moves straight up to 11th in the Championship.
Miguel Costa:
16th in Qualifying, 14th after the heats, retired in the Prefinal, 15th in the Final despite a penalty for an incorrectly positioned front fairing.
Vivek Kanthan:
First race in OK, 18th in Qualifying, 19th after the heats, 16th in the Final despite a front fairing penalty and a gain of four places.

OK-Junior
Christian Costoya:
Pole position in Qualifying, two top three finishes in the heats, 5th with a gain of six places, 2nd in the Prefinal, 13th in the Final with a penalty and 6th in the Championship.
Jack Iliffe:
Pole position in Qualifying, 16th in the intermediate standings, 6th in the Prefinal, 24th in the Final with a front fairing penalty.

Mini
Bruno Priam:
19th in Qualifying, 14th in the heats, 4th in the Prefinal (up 10 places) and 5th in the Final (up eight places) with the fastest lap. 6th in the Championship.