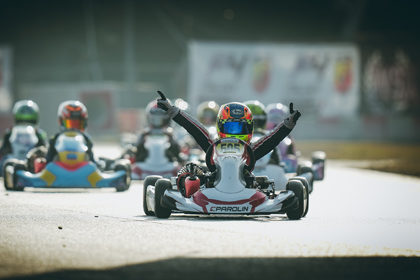 The first event of the 2022 season has already highlighted Parolin Motorsport's top performances on the international scene in the most hotly contested youth category, the Mini. A big win for Christian Costoya in the WSK Champions Cup and exciting results for the other drivers with the Italian brand based in Veneto is a very good start.
"We have a lot to be satisfied with after the first meeting of the season", said Marco Parolin. "Parolin Racing Kart was the best represented brand in all categories in Lonato this weekend and we had 33 chassis out of 92 in the Mini class. We confirmed our competitiveness right from the start of the season with a top four in Qualifying, five chassis in the top 10 in the heats and six out of 10 in the Final, which represents a success rate twice as high as our presence in Mini. Our official team, Parolin Motorsport, was very successful. Christian Costoya shone all weekend and won the Mini Final while Dries van Langendonck reached 4th place. William Caleja finished 9th and Jack Illife progressed to 11th place. At the same time Bruno Gryc and Alessandro Truchot showed great potential."
Moved at the last moment from Adria to Lonato, the WSK Champions Cup was marked by very cold temperatures, at the limit of what a winter karting competition can accept. Fog and then ice affected the timing of the first two days. It was therefore not an easy game to play for the youngest drivers who had to grit their teeth against the bite of the cold. As always, the Mini category saw a very close battle to the finish line among the 92 international participants.
WSK Champions Cup, 20th to 23rd January 2022, South Garda Karting, Lonato.
Parolin Motorsport, Mini category
Christian Costoya, Spain
2nd fastest in Qualifying, four heat wins with two fastest laps, 2nd in the heats, 2nd after the Prefinals and winner of the Final.
Dries van Langendonck, Belgium
4th fastest in Qualifying, 4th in Prefinal with fastest lap, moved up seven places to 4th in Final.
William Caleja, Australia
3rd fastest in Qualifying, a win and a fastest lap in the heats, 6th in the Prefinal, 9th in the Final.
Jack Illife, USA
13th fastest time, a top three in a heat, 9th after the heats and 11th in the Final.
Parolin Motorsport will continue to the first round of the WSK Super Master Series from 27th to 30th January in Lonato.