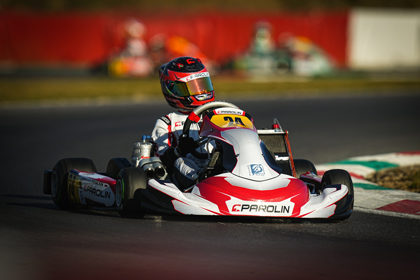 The Champions of the Future by RGMMC Winter Series has just taken place on the new Italian circuit of Franciacorta near Milan with tyres identical to those of the forthcoming FIA Karting Championships: MG in OK and Vega in OK-Junior. Anatoly Khavalkin dominated the Junior class before finishing on the podium in a very competitive Final, while René Lammers also proved to be very competitive in adversity. Parolin Motorsport's level of performance was confirmed by Maksim Orlov's top three in OK in Qualifying and in the heats.
Marco Parolin summed up the meeting:
"FIA Karting competitions are the main focus of the season for the international categories. Therefore it was interesting for us to get to know the particularities of the Franciacorta track where the European OK and OK-Junior Championship will finish in July. It was also an opportunity to drive on FIA Karting tyres, even though we did not have Prime tyres in KZ2. So there was a lot of work to do this weekend. The 1300m circuit is fast and contact often results in crashes and retirements. The races are very competitive right up to the finish line. These are very demanding conditions for the young drivers who still have to find their bearings. We can be satisfied with the work done by the technical team. Maksim Orlov was very competitive in OK with his 3rd place in Qualifying and two top three finishes in the heats. Unfortunately, he was not able to do so on Sunday, probably because of different grip parameters in an area we cannot control. Anatoly Khavalkin was on top throughout the weekend in OK-Junior. The Final was very lively and he finished 3rd after having completed 14 of the 19 laps in the lead. René Lammers was delayed by a retirement in the first race and had to withdraw again after he had come back to 9th place in the Final. I would like to salute the perseverance of Zac Drummond who regained 27 places between Qualifying and the Final. Overall it was an interesting experience with lessons to be learnt, but our Parolin / TM Racing teams confirmed their top performances."
OK-Junior
Anatoly Khavalkin:
pole position in Qualifying, three heat wins and a fastest lap, leader of the Super Heats, 3rd in the Final, leading 14 of the 19 laps.
René Lammers:
9th in Qualifying, retirement in Heat 1, 2nd in Heat 3, 5th in Super Heat 1 (+5 pl), retirement in Final (P9 +10 pl).
Zac Drummond:
53rd in Qualifying, 29th (+24 pl) in heats, 26th in Final (+8 pl).
OK
Maksim Orlov:
3rd in Qualifying, two top threes in heats, 10th after Super Heats, 22nd in Final with a penalty for badly positioned spoiler.