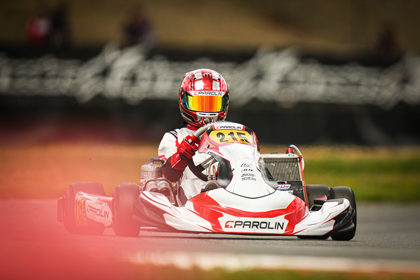 C
onsidered as a series in itself as well as preparation for the FIA Karting European Championship, the Champions of the Future Euro Series started on the last weekend of March on the Portimao circuit in the south of Portugal. Enzo Deligny just missed out on the OK top three, valiantly finishing 3rd on the line and was then penalised, while Anatoly Khavalkin came 7th in the OK-Junior Final and René Lammers finished 9th.
"The Parolin Motorsport team achieved its goal in this first meeting in Portimão," said Marco Parolin. "We have been working hard for the FIA Karting European Championship – OK and OK-Junior which will start here in a fortnight. The Portuguese track requires good preparation after an exclusively Italian start to the season. The drivers also need to familiarise themselves with this fast track. To be able to fight for 3rd position in the OK Final with Enzo Deligny is a very encouraging result. This is only the second time this year that we have used MG tyres in this category. In OK-Junior, Anatoly Khavalkin and René Lammers also showed good potential with a 5th place in Qualifying and a double top 10. We will continue our efforts in order to arrive at the European Championship running at full capacity."
The track was wet in the middle of the week and dried out for Qualifying, but the grip was not very high. The weather remained quite good, but not warm because of the constant wind. René Lammers started with 5th position in the OK-Junior Qualifying and continued with four top fives in the heats, including two fastest laps in the race. Meanwhile, Anatoly Khavalkin made good progress from his 23rd place in Qualifying. He had a great Final race, quickly moving up to the front group and fighting for 7th position with a gain of eight positions and some very fast laps. Lammers increased the pace after a more complicated start and finally finished in 9th position. Zac Drummond made a strong comeback of 26 places from Qualifying and just missed out on the Final by finishing 37th.
In OK, Enzo Deligny had some very good heats finishing between 5th and 2nd place, but his Super Heat was not so good and he had to start down in 12th for the Final. He came back into the top five shortly after the halfway point and was back in the top three two laps before the finish with nine places gained. A penalty of 5" applied during the race dropped him back to 8th place. Maksim Orlov recovered from his 31st position in Qualifying, setting a fastest lap in one heat. Despite a turbulent race, he finished 22nd in the Final with good consistency.