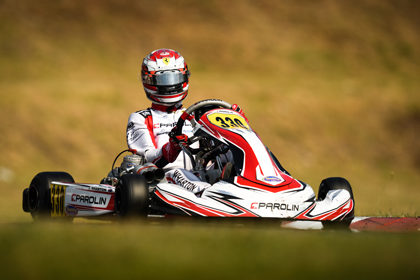 The two Parolin Motorsport KZ2 rookies, James Wharton and Lorenzo Travisanutto, finished the first meeting of the 2021 European Championship on a very positive note. After a worse than expected start to the competition, they recovered in the Final to both finish in the top 10. Francesco Celenta was aiming for a top five finish in the KZ class, but was unable to finish the meeting due to injury.
"We are very happy with the fast progress of Wharton and Travisanutto in Wackersdorf," explained Marco Parolin. "The team worked hard to adapt to the new MG tyres used for the first time in the gearbox categories. We were able to start the FIA Karting meeting in Wackersdorf with strong competitiveness that we continued to develop over the event. Our performance in the KZ2 Final showed that we are on the right track. It was a great achievement to have two of our drivers with little experience in this category able to reach the top 10. It is a real shame that Celenta was not able to continue in KZ, because he certainly had a great card to play in the Final."
The management of Qualifying on MG tyres had not yet been fully mastered by most teams. The concentration of 32 drivers on a track of less than 1200 m during the KZ2 timed sessions did not make things any easier. The battles were then tough during the Qualifying Heats. James Wharton nevertheless managed to stay in the top 10 most of the time, while Lorenzo Travisanutto climbed up to 21st position. It should not be forgotten that the young Australian is just starting out in KZ2 and alternates with an OK programme, whereas the Italian champion was only in his second international race in the category. Viacheslav Putiatin managed to regain 16 places in the heats, but among 95 participants, this was not enough to open the door to the Final.
Wharton and Travisanutto managed to get through the group collision on the first lap of the Final and then pushed their advantage by getting faster and faster as the laps went by. James was able to overtake many of his rivals to reach 8th place at the chequered flag with an impressive gain of 18 places. He was also 8th in the Championship. Lorenzo followed a similar pattern until he reached 10th place at the finish line, a gain of 11 places. He is 11th in the provisional standings.
Francesco Celenta was improving his ranking in the heats after his 7th fastest time, when a crash forced him out of the last heat on the first lap. He was still 11th in the intermediate classification and could have been in contention for a return to the front during the 26 laps of the Final. Unfortunately, this scenario was not to be and Francesco had to withdraw from the Final with several broken ribs after the incident of the last heat.