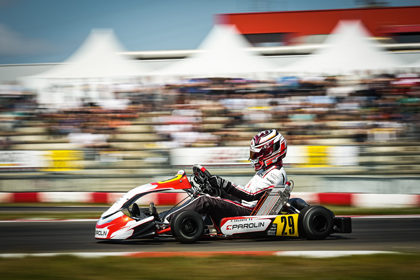 For the opening of the European KZ Championship in Belgium, Parolin Motorsport showed a remarkable level of performance which enabled its two drivers to play leading roles. Francesco Celenta started with the 2nd fastest time in Qualifying while Lorenzo Travisanutto came close to the Final top five in his first race in the category.
As always in an elite category like KZ, the competition was extremely close for the opening of the European Championship from 13th to 15th May at the Genk circuit. The weather remained fine and dry throughout the weekend and temperatures rose above 25° for the first time this season. The harshness of the races led to numerous incidents which further increased the selectivity of the Belgian event.
"The balance of the weekend is positive, even if we were not able to capitalise on the speed of our drivers," said Marco Parolin. "Our two drivers worked very well with the team and I am satisfied with the progress made by our KZ department in such a short time. Francesco paid dearly for his jumped start in Heat 1 and Lorenzo for his spoiler in Heat 2. I think it would have been essential to start a few places further ahead to aim for the podium, because the standard of the top ten drivers was really high: they were all running similar times so it was not easy to overtake. It's no coincidence that the top four drivers finished where they started. We leave Genk aware of our strengths, but also of the details we need to work on to try to improve our results in Cremona."
KZ
Francesco Celenta
2nd in Qualifying, 6th in the intermediate classification despite an incident and a loose spoiler in the first heat. 4th in the Super Heat, 8th in the Final, 7th in the provisional Championship ranking.
Lorenzo Travisanutto
10th in Qualifying, 7th in the intermediate ranking, fastest lap in the Super Heat, 6th in the Final with the 2nd fastest time, 6th in the provisional Championship ranking.
KZ2
Marco Tormen
25th out of 89 in Qualifying, three good heats, but two retirements due to incidents. Another retirement in the Super Heat, while qualification for the Final was in sight.