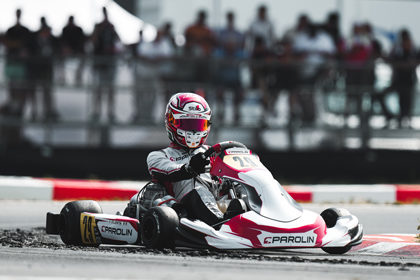 The second and final round of the FIA Karting European Championship – KZ & KZ2 saw particularly difficult conditions on the Cremona circuit. At almost 35° in the shade, the texture of the asphalt put the tyres to a severe test. In addition, the rubber on the track made any attempt to deviate from it dangerous. Overtaking became difficult to achieve. Lorenzo Travisanutto nevertheless managed to progress to the KZ top ten, followed by Francesco Celenta at the chequered flag. The two Parolin Motorsport drivers finished the Championship in 8th and 9th place.
"The 2022 European Championship ends with a bitter taste," explained Marco Parolin. "The competition in Cremona did not allow us to show the potential of our equipment and to battle as we wanted. The tyres suffered a lot from the conditions and it was important to take care of them to reach the finish. The programme had to be reduced by removing the Super Heats so that the quantity of tyres available would be sufficient to reach the Final. Our drivers had to adapt to this unusual situation without attacking as they are used to. Lorenzo was initially delayed by a penalty in the first heat before being able to make up places. He was able to show his talent in the Final, making a good five-place recovery to 10th position. Francesco also put in a solid performance in 11th place. They both deserve to be congratulated for having avoided the pitfalls of this event".
"Marco Tormen and Fotis Sotiropoulos, who started far away in Qualifying, were not able, despite their efforts, to qualify for the KZ2 Final in the hell of Cremona. We will now prepare intensively for the big world meeting in Le Mans at the beginning of September to aim for results more in line with our potential".