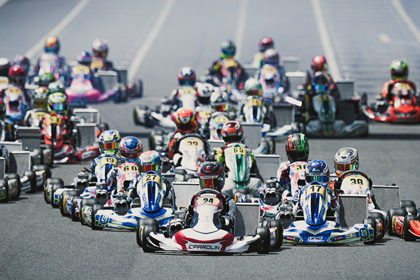 The fourth and final round of the Champions of the Future Euro Series organised by RGMMC at Franciacorta confirmed the excellent performance of Parolin Motorsport in OK and OK-Junior. Maksim Orlov finished 2nd on the OK podium and Rene Lammers finished 2nd in the OK-Junior Final, while Anatholy Khavalkin secured 2nd position in the Championship.
The performance of Parolin Motorsport was actually much more positive than the raw results would suggest. With two weeks to go before the final round of the FIA European Karting Championship, the Bassano del Grappa-based team showed impressive control over the Franciacorta track, both in terms of equipment and drivers.
"Tyre management is a key element for success on this track," explained Marco Parolin. "I think we were very good in this respect. Our chassis degrade the tyres very little, which allows our drivers to perform with great consistency. Rene Lammers managed to reach 2nd place in the Final despite being 58th in Qualifying. This is a personal achievement for the young Dutchman, but also a convincing success for our material. His rise to 5th place in the Championship is well deserved. Anatholy Khavalkin had the potential to win, but the Final battle was not in his favour. However, he achieved the best possible result in the whole series with a very rewarding 2nd position in the Championship.
Maksim Orlov upped the pace in OK by progressing through the top 5 of the heats before finishing in 2nd place in the Final with a combination of performance and consistency. The weekend was more difficult for Enzo Deligny with a hellish Final. He was pushed around at the start and was sent back to 32nd position on the first lap. He regained 20 places and was 12th at the flag while being the fastest on the track, before being disqualified because of a damaged rear bumper in the incident at the beginning of the race.
In any case, we have a good basis to work on in view of the European Championship which will end in a fortnight in Franciacorta. Khavalkin's 2nd place in OK-Junior and Deligny's 4th place in OK in the provisional standings give us some very interesting opportunities that we will do our utmost to take advantage of."
OK-Junior
René Lammers
58th in Qualifying, 21st after the heats (+37 places), gain of 10 places and victory in Super Heat 2, leader for nine laps and 2nd in the Final (+9 places), 5th in the Championship
Anatholy Khavalkin
6th in Qualifying, three heat wins, winner of Super Heat 1, leader for 13 laps and 4th in the Final, 2nd in the Championship
Zac Drummond
48th in Qualifying, moved up 20 places in the heats, and nine places to 5th in Super Heat 2, came back to 15th in the Final with a gain of nine places, then penalised 21st because of a badly positioned front fairing
Iwo Beszterda
8th in Qualifying, 16th after the heats, 16th in Super Heat 2, 23rd in the Final
OK
Maksim Orlov
12th in Qualifying, 5th in heats, 6th in Super Heat 1, 2nd in Final, 14 places gained in the Championship
Enzo Deligny
18th in Qualifying, seven places regained in the heats, 5th in Super Heat 1, climbed 20 places in the Final with the best time, disqualified for the absence of a part of the rear bumper