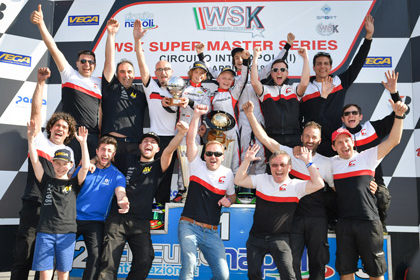 At the Sarno circuit, the last event of the WSK Super Master reaped a harvest of success for the Parolin Racing Kart team. The victorious double in the 60 Mini Final was accompanied by a double in the Championship, won by Martinius Stenshorne, while Gabriele Mini won in the OK-Junior ranking. Parolin Racing Kart's orientation towards the young drivers' categories since the beginning of the 2018 season is already bearing fruit.
"It brings a great deal of satisfaction for our brand to win the WSK Super Master Series in two categories at once," declared Marco Parolin, not hiding his joy. "This series is one of the toughest and the standard was very high during all four events. The conditions proved to be very varied from the cold of Adria to the heat of this weekend in Sarno. Whatever the weather, we have been very good at each track. It is a great success that reinforces our ambitions for the future. In less than two weeks, the CIK-FIA Junior European Championship will start here at Sarno."
The winner the week before, Gabriele Mini handled the situation perfectly during this last WSK Super Master event without taking unnecessary risks. For his first season in OK-Junior, he has progressively ramped up his performance throughout the weekend to give his best in a decisive Final. He was 3rd in two laps and then managed to stay in the top five despite the intensity of the battle. He was able to get the better of his rivals to reach the top of the overall rankings ahead of more than 120 competitors.
"The competition was difficult," said the young champion. "I was tense because I knew I could win the Championship, but my opponents would not give anything away. I constantly thought about not making mistakes and finally, everything went well. This title bodes well for the rest of the season, as it demonstrates the quality of the work by Parolin Racing Kart."
In 60 Mini, Martinius Stenshorne took revenge for his disappointment of the previous week where a deserved victory escaped him on the last lap. After a modest 17th in Qualifying, he put in a good performance, including two fastest laps in the heats, before winning his Prefinal with a lot of determination. He finished his impeccable course with a well-deserved victory in the Final where he also set the fastest time. Martinius won the general classification while Tymoteusz Kucharczyk completed Parolin's triumph in 2nd place in the race as well as in the championship.
This success owes nothing to chance as evidenced by the qualification for the Final of all the other drivers in the team, Nikita Andreas Johnson, Maksimilian Popov, Akshay Arjun Bohra and Brando Badoer, among the 14 Parolin chassis present among the 34 finalists, including almost half of the top 20.