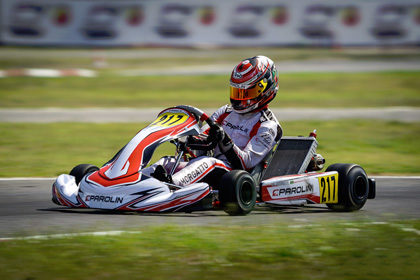 The second event of this return to competition confirmed Parolin Racing Kart's excellent level of performance in all three categories at the opening of the WSK Euro Series in Sarno. Morgatto's new top five in OK and Bouzar's 4th place in Mini are proof of this, but several racing incidents ending in retirements did not fully reflect Parolin's form during this heated competition.
"We can't help but feel a certain amount of frustration after the Sarno meeting," said Marco Parolin. "Having to face seven retirements in total, four of which were during the Final stages of an event, is always difficult to live with, especially when it comes to racing incidents… We knew we were in a position to achieve some very good results this weekend, but fate decided otherwise. Luckily, we didn't come away empty-handed as two of our drivers reached the top five, in OK and Mini. We are looking forward to further success next weekend in the Champions of the Future series at Zuera."
The temperature was once again high, over 30°, on the Circuito Internazionale Napoli from 9th to 12th July 2020 for the first round of the WSK Euro Series. On this fast and demanding track for both equipment and drivers, the competition was fierce, sometimes too fierce, which did not do Parolin Racing Kart any good.
In OK, Brazilian Matheus Morgatto shone once again, climbing another six places in the Final to enter the top five after setting the 14th fastest Qualifying time. The Australian James Wharton's progress was more complicated and he had to retire at the very beginning of the Final. For his comeback, the German Hugo Sasse followed a sensible strategy that took him up to 13th place in the Final after regaining 10 positions.
Neither Valerio Rinicella nor Maxwell Dodds were able to reach the finish in OK-Junior. The Italian managed to qualify with a good 6th place in the Prefinal before losing all hope at the start of the Final. For his part, the Briton had reduced his Qualifying deficit well during some very combative heats, in which he valiantly climbed back from 10th position in each heat at an impressive pace. He was back in 4th position in Prefinal A when he had to drop back three laps from the goal, which forced him to start from the back of the grid in the Final.
After setting the 2nd fastest time, and very solid in the top three of the Mini heats, Polish driver Maciej Gladysz could not qualify because of a collision that delayed him on the second lap of Prefinal A. Fortunately, Frenchman Guillaume Bouzar was able to take over for Parolin with a convincing weekend that ended with nine places regained and 4th in the Final.
"I would like to pay tribute to the memory of Claudio Flenghi who passed away on Sunday morning", concluded Marco Parolin. "Everyone knows the attachment of Parolin Racing Kart to TM Racing. With his sportsmanship and fighting spirit, for us Mr. Flenghi embodied the spirit of racing. He is a personality that we miss already and we empathise with the sadness of his family and close friends."