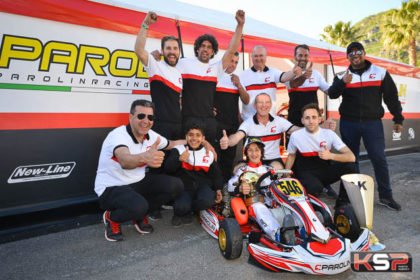 On the Sarno circuit, the final meeting of the WSK Super Master Series confirmed the excellent standard of performance of the Parolin Racing Kart chassis. Problems in the races left Lorenzo Camplese and Shihab Al Habsi without of good places in KZ2 and OK-Junior, but Gabriele Mini managed to regain the lead of the 60 Mini category to win a well deserved title.
Gabriele Mini has undoubtedly been the top performer of the entire 2017 WSK Super Master Series. With three pole positions out of four, leading the Qualifying Heats at each event, he has gradually moved up the rankings to win the title at the Sarno round. This weekend, at the foot of Vesuvius, Gabriele won his four races and his Prefinal before finishing 3rd in the Final in an epic battle where he made intelligent decisions to secure the title. Always very fast, he is holder of the record lap time of the event. This magnificent result allowed him to surpass all his opponents in the final standings of the series and to crown the crown with a good lead.
"We are very happy with Gabriele's success. Albino Parolin declared. "He is a very good driver and we are proud to have provided him with the equipment to win while the competition was extremely tight. The whole team congratulates him. We also have the satisfaction of seeing our other two drivers line up with top performance. Racing incidents and mechanical problems did not allow them to shine until the end of the meeting, but everything is in place to start the European Championships in very good condition."
The meeting had started badly for Shihab Al Habsi in OK-Junior, who only clocked 60th in the time trial. The young Omani driver was able to get back into the Qualifying Heats before making an extraordinary comeback of 18 places in his Prefinal to reach the top 10. While he had a great card to play starting 20th in the Final, a 40-place win since Qualifying, Shihab unfortunately had to retire early in the race. His good progress since the beginning of the season nevertheless shows a very interesting potential for the European Championship.
Lorenzo Camplese was very much in the frame at Sarno. Having already set the 7th fastest time in Qualifying, he returned to the top five during the heats, in particular posting the best lap of the first race, whereas the overall standard of competition was higher than ever. Confirming his speed in Prefinal, he expected to do even better during the 17 laps of the Final. Unfortunately, a mechanical problem forced him to retire early.
In less than two weeks Al Habsi in OK-Junior and Camplese in KZ2 return to the Sarno circuit for the first event of the CIK-FIA European Championships with the ambition to carry the colours of Parolin Racing Kart to the highest level.