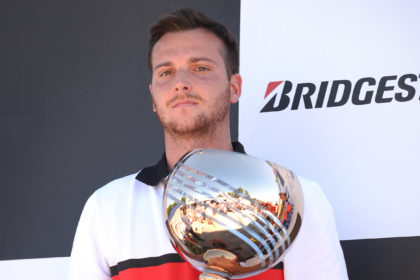 For the last two seasons, Parolin Racing Kart has decided to focus on categories open to young drivers. In the footsteps of Gabriele Mini, many drivers from around the world have found the path to success thanks to the remarkable performance of the Parolin chassis. As the year begins its second part, the Italian brand is already very successful in terms of victories in 2018.
"We are very proud of the success of our new focus on youth categories," said Marco Parolin. "We have managed to develop a chassis that is very easy to use and competitive in all conditions. We did not only want to shine at the highest level, but above all to offer equipment capable of meeting the needs of drivers of all levels, whatever the engines and tyres used, not to mention the specific weather conditions in each country. It gives us great satisfaction to see that our frames are able to shine around the world."
The adventure really began in 2017. In the Parolin colours, Gabriele Mini' has been successful on many occasions. He made a name for himself in the highly contested 60 Mini category by winning the WSK Super Master Series and the Italian Championship. With this experience, Parolin Racing Kart developed a particularly successful chassis for the 2018 homologation. The wins were not only in the international arena, but also in various national championships all over the world.
At the international level, the competitiveness of Parolin chassis has been confirmed with new drivers. While 60 Mini was still contested by teams and talented drivers, the Norwegian Martinius Stenshorne won the WSK Open Cup and the WSK Super Master Series, while the Briton Coskun Irfan won the Industrial Trophy.
But it is undoubtedly the victories acquired in different countries and continents that reveal the most value of the Parolin chassis. In the United States, Caleb Gafrarar won the Florida Winter Tour in Micro Rok, while Jace Park became Vice Champion of the SKUSA Pro Tour in Mini Swift. Maxens Verbrugge was recently crowned as French Minime Champion, while Douwe Dedecker won Mini Parilla in the IAME Series Benelux. In the UAE, Keanu Al Azhari won the UAE Rotax Max Challenge in Micro Max and also won X30 Cadet at the UAE X30 O Plate. Idar Gjerkevik became Norwegian Mini Champion, Mathias Jakobsen won the Danish Championship, Konstantin Krapin became Russian Champion and Piotr Protasiewicz won the Rok Cup Poland in Mini Rok. The Parolin chassis have also enjoyed significant success in other countries such as Mexico, Chile and Southeast Asia.
"I want to congratulate all the young drivers who won with Parolin this year," said Marco Parolin. "I thank them for their trust in our equipment. We will continue our strategy towards young drivers around the world to enable them to showcase their talent and progress under our colours as Gabriele Mini' did by winning the WSK Super Master Series in OK-Junior and becoming Junior European Vice-Champion."