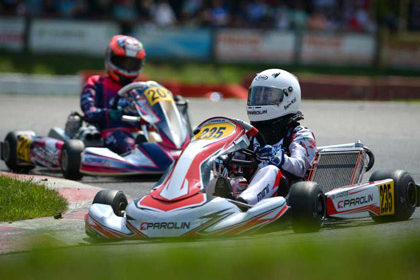 In Germany, the third round of the CIK-FIA European Junior Championship once again confirmed the competitiveness of the Parolin chassis on every track. On Ampfing's twisty circuit, Gabriele Mini' has shown extraordinary consistency in the top group of the OK-Junior category. Always in the top five, most often among the top three, the Parolin Racing Kart driver achieved very good performances up until the Final. He was still in 4th position and in ambush for the finish, when a mechanical problem thwarted his plans.
Faced with experienced opponents more accustomed to the specifics of the Ampfing German circuit, Gabriele Mini' demonstrated the strength of his Parolin / Parilla equipment in a new arena.
"We are very pleased to have been able to quickly demonstrate a very good standard of performance at Ampfing," said Marco Parolin. "The specialists from the German Championship did not expect to see us in such a good position on such a unique track. Already very fast during Free Practice, Gabriele confirmed this by posting the 5th fastest time against more than 80 drivers. He had two fastest laps in the heats, a win, and was completing his mission in the Final when he ran into trouble with his spark plug. It's a shame, because we could have kept the advantage in the provisional classification of the European Championship. However, the situation is far from negative for us, as Gabriele is in 2nd position before the final event. Despite this setback, we are proud to be able to demonstrate the value of the Parolin chassis at the highest level of racing, whatever the race conditions."
Gabriele Mini' was immediately able to exploit the potential of his equipment at Ampfing. He started with 5th in Qualifying, before finishing consistently in the top three of the heats. He had a win in the last heat on Sunday morning and had two fastest laps in the race. According to his usual strategy, Gabriele reserved his effort for the Final. Starting from 5th place, he was in range of the top three when a defective spark plug forced him to give ground. A quick calculation shows that he would have been able to maintain the lead of the European Championship without this small incident. The good news is that Parolin and Mini' are competitive on all occasions and that they will arrive more motivated than ever at the European closing event, in France, at the circuit of Essay at the beginning of August.