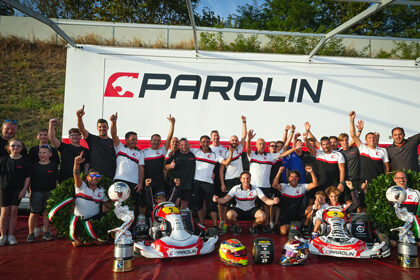 The high point of the season, the 2023 FIA OK and Junior World Karting Championship lived up to its promise in terms of difficulty and selectivity. With over 100 drivers in each category, the challenge was worthy of the event. Parolin Motorsport demonstrated its top-class competitiveness by regularly battling for victory. Rene Lammers in OK and Christian Costoya in OK-Junior both managed to finish 2nd in this formidable competition.
"The Franciacorta weekend was extremely long and complicated," explained Marco Parolin. "The record number of participants in each category meant that there were many Qualifying Heats, which demanded a sustained effort from the team. In the end, we managed to come close to glory in both categories. We were really hoping for victory, but I can't hide my satisfaction with these two superb 2nd places. It's a great reward for the exceptional work of Christian and René, and of course for all those who worked hard to achieve it – with a special mention for Franco Drudi and Gordon Finlayson. We now look forward to the end of the season with confidence, and we can't wait to see what the future holds."

OK
Rene Lammers:
2nd in Qualifying, 2 wins, 3 P2s and 1 P3 in the heats, winner of Super Heat B, 2nd in the Final and runner-up in the World Championship.
Anatoly Khavalkin:
33rd in Qualifying, climbed 27 places in the heats, 2nd in Super Heat B, 7th in the Final.

OK-Junior
Christian Costoya:
pole position in Qualifying, 4 wins in the heats, 2nd in the Super Heat, 2nd in the Final and runner-up in the World Championship.
Jack Iliffe:
32nd in Qualifying, 2nd place in a heat, 16th in the intermediate ranking (up 16 places), 7th in Super Heat A (up 16 places), retired on the fourth lap of the Final.
Despite their good speed, Zac Drummond, Vivek Kanthan and Sebastian Lethimaki were unlucky in Qualifying, which seriously compromised their weekend.