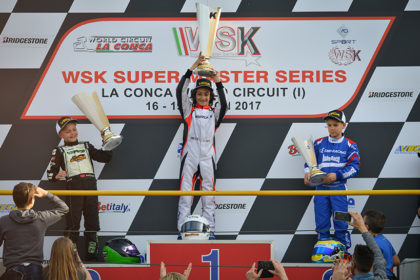 This year Parolin Racing Kart has launched in the very competitive 60 Mini category. The debut of the Romano d'Ezzelino brand in the young drivers category was immediately successful. Gabriele Mini won the two major championships of the season at the wheel of his Mini Opportunity 60 chassis. Winner of the WSK Super Master Series at the beginning of the season, he confirmed his form by winning the ACI Karting Italian Championship.
"It gives us great satisfaction to have dominated the 60 Mini category with our factory team as soon as we arrived," confided Marco Parolin. "To win in Italy, where the competition is the toughest, we could not hope for better! Gabriele Mini has shown incredible consistency at the forefront of every race he has competed in the most competitive category. We congratulate our driver and do not intend to finish there."
In 10 race weekends at the highest level of 60 Mini, WSK and ACI combined, Gabriele and his Parolin chassis took seven pole positions, seven 1st places at the end of the heats, 11 podiums and four wins. Achieving so many good results on the ground confirms Parolin's quality of production in the eyes of all. Beyond Italy, the Italian chassis have also shone in Scandinavia, Mexico and the United States. After winning the Rok Cup USA in Mini, Parolin also hopes for great performances in Las Vegas at the SuperNationals.
"This year was very positive for us in Mini," Marco Parolin continued. "This gives us the opportunity to showcase our products in other categories and develop our overall strategy in competition. We will continue our collaboration with Gabriele Mini in OK-Junior next year and increase our involvement in Mini through the official team, as well as the satellite teams. This will allow us to assign different tasks to each of us, from the training of beginners, an essential element for the youngest, to the support of the most seasoned in the struggle for victory. We have definite ambitions in the short and medium term in South America, the Middle East and Asia."