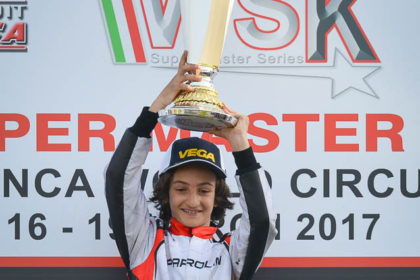 As spring approaches, international kart racing is seeing a weather situation more in line with the standards of the discipline. The Parolin Racing Kart team was able to perform very well during the third round of the WSK Super Master Series. To the excellent performance of Camplese among the best in KZ2, was added the well deserved victory for Gabriele Mini in the youngest category.
"Until now, we have not had the opportunity to demonstrate the breadth of our knowledge this year," Albino Parolin pointed out. "We were confident in the quality of our equipment and the strong potential of the team, but that had not yet been reflected in our results. At La Conca, we have taken an important step towards our objectives. The development continues and we have other strong cards to play in the near future."
The circuit of La Conca is unique. In addition to the temperature of around 20°C in the region, the surface of the track can baffle competitors with the very strong grip it generates. The Parolin Racing Kart team was not at all destabilised by these unusual conditions, and the chassis of the Bassano brand was reacting perfectly to the different settings. Shihab Al Habsi's OK-Junior progress was unfortunately affected by several clashes that tarnished the record of the weekend, despite the interesting performances that the young Omani has achieved when he didn't suffer any setbacks.
Unnerved until then by the wet circuits of the 2017 WSK Super Master, Lorenzo Camplese found his smile in the grip of La Conca. Early season efforts were rewarded with flattering results, although a mechanical problem prevented him from completing the demonstration in the Final. With 3rd in KZ2 Qualifying, a best lap in the race, heat finishes between 2nd and 4th place and a top five in the Prefinal, Lorenzo was well on his way to a great Final because he had already taken five positions when his engine broke down. Thanks to the level of performance displayed throughout the weekend, satisfaction has prevailed nevertheless.
A contender in 60 Mini since the first races of the season, Gabriele Mini finally got the victory that he deserved. Once again on pole position and the undisputed leader of the qualifying heats, the young factory Parolin Racing Kart driver fought until the end of the final stages to reach the first step of the podium that he coveted so much, and shared the joys with the whole team. He moved back to 2nd place in the championship, very close to the leader.
More motivated than ever, the Parolin Racing Kart team is set to arrive at the Sarno track with solid assets for the finale of the 2017 WSK Super Master Series.