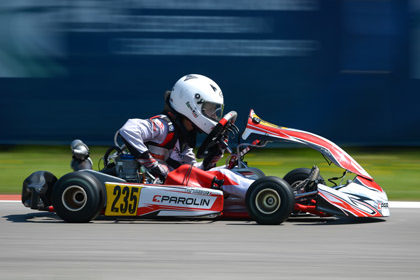 After its recent WSK Super Master Series successes, Parolin Racing Kart has fully confirmed its place among the top international karting teams at the opening of the CIK-FIA European Junior Championship. In particular, Gabriele Mini has completed a very progressive event with top performances and a superb 2nd place finish as a reward.
"The European Championship is a particularly difficult competition", said Marco Parolin. "The OK-Junior class was the debut for the new Vega tyres which forced us to review the equipment development. I am very happy to see that our chassis have adapted very well to this new situation. The battle was tough at the Sarno track during the many Qualifying Heats, and you had to be fast without making any mistakes to rank well. Our Parolin / Parilla karts have once again demonstrated their excellent competitiveness."
Already in the top 10 in Qualifying Practice with around 80 OK-Junior drivers, Gabriele Mini progressively ramped up the performance during the heats before exploiting the full potential of his Parolin in the Final. Starting very well, he quickly joined the leading group in 5th position and watched for his opportunity. Five laps from the finish, he took the lead over his opponents and climbed to 2nd position, the leader being out of reach. Gabriele's second fastest time of the Final gave even more credit to his performance.
"I often drove with some reserve to limit the risk of incidents," said the driver. "I knew that we were not necessarily favourites at the Sarno event and that it was better to secure points than to look for victory at all costs. It was very difficult to manage on the track, but I had confidence in my equipment. Whenever I needed to raise the pace, the Parolin / Parilla responded."
Alessandro Cenedese was noticed several times during the heats by twice moving up into the top five. A penalty for overtaking under the yellow flag caused him to lose a dozen places on the starting grid of the Final while complicating his race. He still managed to regain ground in the pack.
At the wheel of a Parolin chassis, the Baby Race driver Nikita Bedrin, also a rookie in OK-Junior, was among the fastest, with his 10th in Qualifying and his 7th place after the heats before retiring at the start of the Final after a collision.
Thanks to Gabriele Mini, Parolin has started the European Championship well in 3rd position of the provisional classification. Three more events await the Italian team, as motivated as ever in the pursuit of the title in OK-Junior.