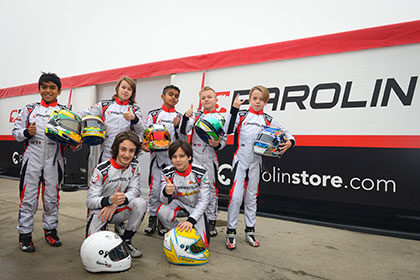 The Parolin team did not have to wait too long to demonstrate its ability to put its drivers in the best position to fight at the front. A pole position, wins in the heats and podiums have already punctuated the 2018 WSK Champions Cup at Adria. The Parolin strategy for young drivers is more engaged than ever …
Like last year, the Parolin brand has left its mark on the 60 Mini category, but it also caused a sensation in OK-Junior with the young driver Gabriele Mini. The Italian was very comfortable with the new evolution of the Parolin chassis. "It's a very good sign for this season," said the Parolin Racing Kart team. "Gabriele has just moved up from 60 Mini and he has already managed to take pole position, keep his advantage at the end of the Qualifying Heats with three wins out of four, then to win his Prefinal with the fastest lap in the race. It's very positive."
Mini does the max
Gabriele Mini unfortunately lost a few places at the height of the fight within the pack in the Final, before returning to 6th position … again with the fastest lap in the race! Promising.
For his first race in OK-Junior, his team-mate Alessandro Cenedese managed to qualify despite a retirement in a race, which deprived him of a better place on the grid and therefore a more flattering finishing position. Certainly, the Parolin-Parilla karts have nothing to envy in the fierce competition that raged at the Adria Karting Raceway.
Double podium for Parolin
No less than 22 Parolin chassis were entered in 60 Mini. To quantity was added quality, with six chassis in the top 12 of the Final, including two on the podium! A real vote of confidence for the Parolin Racing Kart team, not forgetting the honourable performances by the other teams who have chosen the Italian brand.
This group triumph started from Qualifying. Nine times out of 15 races, a driver equipped with a Parolin chassis crossed the finishing line in the lead. Two well-known names in motorsport scored top results in the Final. Nearly 20 years after the exploits of his father Martin in 125cc gearbox, Martinius Stenshorne won his Prefinal, before finishing 2nd in the Final after a constant battle for victory.
As for Brando Badoer, accompanied at the track by his famous father, Luca Badoer (former Formula 1 driver), he lost big points in one heat, but bravely made up for it by finishing on the Final podium.
In addition, ranked 6th was Bartlomiej Piekutowski (Parolin Poland), 7th Lukas Malek (AV Racing), 9th Tymoteusz Kucharzyk (AV Racing), 11th Akshay Bohra (Parolin Racing Kart), 16th Maksililian Popov (Parolin Racing Kart), and so on.
The new competition structure of the Parolin factory has clearly succeeded at its 2018 debut, and it's only the beginning …