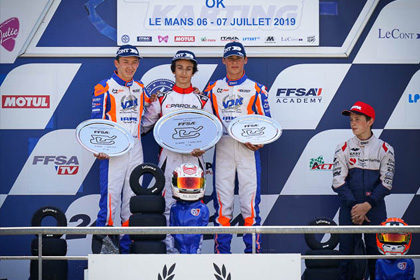 Well represented at Le Mans during an FFSA meeting preceding the conclusion of the European Championship, the official Parolin Racing Kart team was in the public eye once again. Gabriele Mini' dominated the OK category and added an undisputed victory to his record while new rookie James Wharton made a convincing debut in OK-Junior.
"We decided to take advantage of the FFSA event to get our bearings on the Le Mans circuit before the last meeting of the FIA Karting European Championship," declared Marco Parolin. "Victory was not our main goal, but it's always a good sign when one of our drivers wins. Gabriele Mini' once again fulfilled his mission by climbing onto the top step of the podium. That said, we will continue our work to improve our performance. The other reason for satisfaction is the arrival of an excellent Junior driver in our team. The young Australian James Wharton quickly felt confident with our equipment and he was able to take a 4th place in his first participation with Parolin. It's very encouraging for him and for us!"
The field was of a sufficiently high standard at Le Mans in the French OK Championship for the confrontation to be significant. Parolin Racing was able to gather a lot of information on the French track and the LeCont tyres to prepare its Parolin / TM Racing karts equipped with LeCont tyres for the European Championship. Already 2nd in Timed Qualifying, Gabriele Mini' then won all the heats, the Prefinal, and the Final after a close battle. At the same time, Hugo Sasse was more and more successful and finished in an interesting 6th position.
James Wharton did not take long to adapt to his new team, as he was already in 2nd place in Timed Qualifying in the French Cup for OK-Junior against 54 participants, including several seeded in the category. 7th at the end of the heats, he came back to 3rd in the Prefinal before finishing with a quite significant 4th place in the Final. The arrival of a driver of the standard of Wharton provides an excellent opportunity for the team to progress in Junior too. The competition was not easy for everyone, but we can note the beautiful comeback of 11 places by Mateo Rubio Luengo. Much delayed by two retirements in the heats, Brando Badoer, 8th in Qualifying, could not qualify for the Final.
In less than two weeks at the Le Mans circuit, the fourth and final round of the European Championship promises to be particularly interesting for Parolin. Currently 3rd in the provisional standings, Mini' will have a great card to play while Wharton will be able to demonstrate the full extent of his talent with his new team.
See more at: https://www.kartcom.com/it/pressrel/cpr/le-mans-another-victory-in-ok-and-promise-in-junior#sthash.T8n1xurc.dpuf