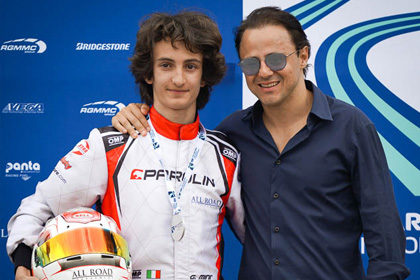 Due to the unpredictable weather in Belgium, the second round of the FIA Karting European Championship was the most difficult of the season so far. Small showers often caused unpredictable variations in the grip of the Genk circuit. Delayed for this reason in Qualifying, Gabriele Mini' admirably recovered from 43rd to 6th place finish with the fastest lap, therefore preserving all his chances in the OK rankings. Another reason for satisfaction was that Hugo Sasse and Mike Van Vugt had very convincing performances as soon as they joined the Parolin Racing Kart Team.
"The weather was really difficult to manage this weekend," said Marco Parolin. "The conditions could change between the parc fermé and the dummy grid. It sometimes looked like a poker game! The good thing is that we reacted and Gabriele Minì was able to come back to the forefront with commendable determination. We have also strengthened our driver training. We are counting on newcomers to grow faster in both categories and increase our chances of success."
Complicated choices in Qualifying
Gabriele Minì demonstrated the efficiency of the TM Racing-powered Parolin chassis in Free Practice in good weather, while the German Hugo Sasse gradually took the measure of his new equipment. The changeable weather for Timed Practice posed acute strategic problems that did not favor the team. Sasse was unfortunate with his 24th position, while Mini' was far off the mark in 43rd place.
Minì gains 37 places in OK
Regaining an average of ten positions in each heat with two fastest laps in the race on Saturday, Gabriele gained 30 places before continuing his effort in a magnificent Final. Just before a storm, he was able to finish in 6th place (+7 pl) and was again the fastest. The constant work of the team and the efforts of the driver allowed him to maintain his 3rd position in the provisional classification of the European Championship. Hugo Sasse concluded with an interesting 18th place finish, while Ricardo Gracia Filho missed his qualification for the Final after two retirements in his heats.
Strong potential for Van Vugt in Junior
Despite his 32nd in Qualifying, Mike Van Vugt had good performances in the OK-Junior heats, scoring among the fastest, with notably a 3rd and a 4th place. His comeback in the Final ended prematurely after contact while he was 15th. With three positive results in the heats, Brando Badoer unfortunately gave up in the other two and could not reach the Final.
Parolin Racing Kart can confidently approach the next meeting of the European Championship in less than two weeks in Sweden, at the Kristianstad circuit.
See more at: https://www.kartcom.com/it/pressrel/cpr/europe-impressive-recovery-for-mini-after-difficult-qualifying-at-genk#sthash.n0041ZDF.dpuf