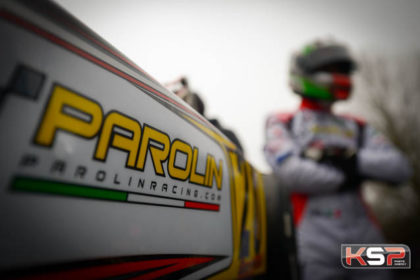 After successful debut at Adria during the WSK Champions Cup, the Parolin Racing Kart Team continued in international competition at the first round of the WSK Super Master Series. On this occasion Lorenzo Camplese made his debut in the KZ category, for the professionals of karting. Despite extreme conditions and a shortened programme, the factory Parolin Racing Kart driver achieved extraordinary well to fight in the top three at the start of the final.
The winter weather at Castelletto did not make the task easy for the Parolin Racing Kart Team in early March. Distanced during the first free practice session, Lorenzo Camplese was back on the pace from the second session. Qualifying didn't provide complete satisfaction with a 13th place overall but the team worked hard to enable the driver to move up significantly in Prefinal A on Sunday morning. Camplese was very close to the best in pure performance and regained six places to finish in 3rd position in the wake and on the pace of the eventual winner.
The competitiveness of Parolin Racing Kart was displayed again in the Final and Camplese immediately found himself in the fight for the top three. He then lost ground because of the intensity of the battle, before resuming the ascendancy in the final laps and finished 7th in a lively race. Lorenzo is in 7th place in the provisional championship standings among a stellar roster of confirmed champions.
"The weekend of Castelletto wasn't easy for anyone," confided Albino Parolin. "We are not, however, unhappy with our performance. The team is very young and we are already comparable to the greatest specialists with long experience in KZ. We must not forget that this is currently the premier class where the professionals of world karting race.
We proved that our KZ chassis was at the peak of competition, ensuring that our racing product is the same our customer base is receiving, which is one of the main objectives for the company. We have planned our development programme with the goal of being at the top for the major CIK-FIA international events and will soon meet our opponents again for the second meeting of the WSK Master Series Super at the Sarno circuit."