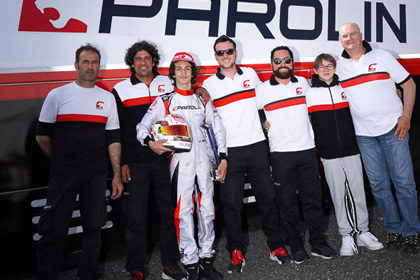 Gabriel Minì took full advantage of his excellent Parolin / TM Racing equipment to stay at the front of the OK category during the whole weekend of Kristianstad during the third round of the European Championship. Fast and combative, he achieved his best performance of the European season and consolidated his position in the top three of the Championship.
"It's very satisfying for Parolin to stay at the top of the results sheets, race after race, whatever the track and the driving conditions," said Marco Parolin. "In Sweden, we were remarkably consistent at the front from the beginning to the end of the meeting when the competition was not easy, as shown by the small gaps between the competitors. Gabriele made no mistakes and the team did a great job to showcase the great potential of our chassis. We have a strong card to play in the Championship, which is very rewarding!"
Top Qualifying and heats
2nd in the OK-Junior World Championship last year at the same circuit, Gabriele Minì started the Swedish meeting well in 2019 in the higher category. After a magnificent 3rd place in the Qualifying session, only 52 thousandths of a second from pole position, the young Italian drove great races, twice with the fastest time. Gabriele kept pace with some of the competitors who had been putting on their new tyres before the final stages. This constant competitiveness allowed him to again appear in the top three.
Beautiful Final confirmation
"The race started very strongly with several attacks on the opening laps," explained the Parolin Racing Kart driver. "By the time I came back to 2nd position (on the 5th lap), the leader had already widened the gap. I was able to accelerate in the second part of the race and I gradually got closer to the leader. It was a significant risk to try a manoeuvre and I preferred to take the second step of the podium, but the win had never been so close…"
The fastest lap of the Final, one-tenth faster than the winner, as well as the 3.9″ separating him from 3rd confirmed the real chances for Minì during this event. The top three in the provisional classification of the OK European Championship of which Minì is part have now distanced their main rivals. The final battle to take the title promises to be particularly tight in France, at the Le Mans circuit, from 19th to 21st July.
See more at: https://www.kartcom.com/it/pressrel/cpr/19-06-04-10-062nd-place-to-crown-a-strong-performance-at-kristianstad#sthash.ITz9eDCc.dpuf